6 min read
September 7, 2022
Artificial grass is a game changer for anyone looking to improve their curbside appeal. It helps you achieve a low-maintenance garden that still looks great. With the right fake grass manufacturer at your side, the possibilities are absolutely endless!
If you're on the fence about getting artificial grass, here are nine reasons why artificial grass is the best for improving curbside appeal. Let's dive in!
9 Reasons Why Artificial Grass Is The Best For Boosting Curb Appeal
It's Long-lasting
Artificial grass is a synthetic alternative to normal grass. Unlike real grass, which can die and become patchy, it can last a long time.
With synthetic turf, you can easily enjoy 20 years of beautiful grass. If you have less traffic on your grass than a  home with pets and kids, you could tack on another decade of use.
Artificial grass doesn't flatten and, with our UV-stabilised grass, you won't have to worry about any fading. Season after season, year after year, you can enjoy gorgeous grass without needing to replace it.
Very Low Maintenance
If you have a lawn, chances are you spend a few hours a week tending to it. It's exhausting work and likely doesn't reward you with luscious grass as you'd hoped for. Weather can be unpredictable and the cost of fertilisers and gardening fees can quickly add up.
Because faux turf is made from synthetic materials, you don't need to worry about maintenance. There is no need to water it and with high-quality grass, you won't have to deal with damaged flat areas or washed-out grass from the weather. Additionally, fake grass is very easy to clean.
No more calling in gardening services or cutting your grass every few weeks. After you install your artificial lawn, you can literally sit back and relax for the next 20 years as it stays vibrant without any maintenance.
No Watering
Real grass needs regular watering and is likely to leave you with a patchwork lawn of different grass shades.
synthetic grass looks perfect right from the get-go. All you need to do is install your grass and enjoy a bright, lush garden landscape every day of the year. This is particularly convenient in times of drought when water usage might be restricted.
Always Looks Neat And Tidy
Real grass can be a hit or miss. Weather changes have an immediate impact on the colour of your grass. A lawn that looked good yesterday might look patchy and dry today.
Fake grass will look fresh and effortless from day one and last decades. Extreme weather won't damage how the grass looks and because of its porous structure, installing an artificial grass drainage system means any rain will drain through to the ground beneath. You won't have to deal with nasty puddles or stuck water.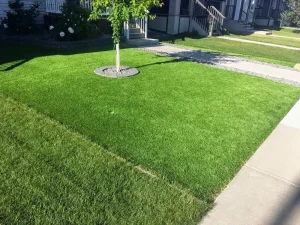 Safe For Animals
If you have pets, you might have put off getting artificial grass out of fear that the synthetic fibres could harm your pets.
Luckily, our artificial grass is made with safety in mind and we offer grass that is pet friendly. Artificial grass is safe for soft paws and fragile skin. Our range offers grass with extra fill layers to create softer turf and keep your pets safe from any grazing.
Safety standards are rigorously adhered to and our fake grass undergoes testing to ensure it's safe in all regards.
Can Be Used Alongside Flowerbeds and Shrubbery
When you install artificial turf, you can allocate more of your time and resources toward improving the flora in your garden. Help natural shrubbery grow or focus your attention on flowerbeds, despite having an artificial lawn to improve your curbside appeal.
With artificial grass, it's easy to design your garden in a way that highlights your beautiful flowers and bushes. It can frame your flower beds beautifully and keep them looking well-maintained.
With our vast range of artificial grass products, you are sure to find grass that suits your home and your intended floral arrangement.
Increase Property Value
Curb appeal is just as, if not more important, than regular maintenance when putting any property on the market. While it might sound superficial, curb appeal is what gets buyers to stop and take a look at your home.
Artificial grass always looks fresh and neat, instantly rejuvenating the look of any property. Many buyers also prefer homes with artificial grass because of the low maintenance costs and because it's less resource intensive.
A home with artificial turf is very sought after and is sure to be a major selling point if you do consider putting your house on the market.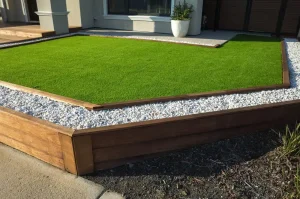 Landscape Design Freedom
Let your creativity come to light and play around with your artificial grass. Besides sprucing up your curb with realistic and cushioned artificial grass, you can also create grass designs that fit your home and your aesthetic.
Lay grass that showcases your personality. From luxury grass to sporty grass, false grass opens the way to yard design options few have ever thought possible.
Can Be Laid Almost Anywhere
Fake grass doesn't have to be limited to your lawn. It's extremely versatile and can be laid on almost every surface including soil, turf, tarmac, paving, and concrete.
It also works perfectly on sloped surfaces which means you aren't limited to the ground. Spruce up balconies, roofs, or terraces with artificial grass designs.
As long as the grass is all laid in the same direction and installed well, you will be able to enjoy your artificial turf wherever your heart desires.
Conclusion
With so many reasons to give artificial grass a go, why not give it a try and browse our shop? We offer budget-friendly, easy-to-install grass in a wide range of grass and shade options. With all these options, you are bound to find artificial grass that completes your home and fits your personal style!
Artificial Grass Direct also offers free samples to let you try before you buy. Contact our friendly team to request a free sample. We'll deliver it straight to your home and let you get a feel for the high-quality grass offered by Artificial Grass Direct.