3 min read
April 12, 2023
When you think of artificial grass, the first colour that comes to mind is probably green. However, there's a new trend taking the world by storm: blue artificial grass! This unique and vibrant alternative has opened up a world of possibilities for creative uses in various events and settings. In this blog post, we'll explore some of the top occasions where blue artificial grass can add a fresh and exciting twist.
Sports-Themed Events
Whether you're hosting a birthday party, a corporate event, or a community gathering, a sports theme can create a fun and energetic atmosphere. Blue artificial grass can be the perfect touch for events supporting teams with blue as their primary colour. Roll out the blue turf and let guests feel like they're in the heart of the action, cheering on their favourite team!
Nautical and Beach-Themed Parties
Transport your guests to the sea by incorporating blue artificial grass into your nautical or beach-themed event. The blue turf can resemble the ocean, allowing you to create a beautiful and immersive setting. Pair it with beach chairs, umbrellas, and seashells for a truly picturesque scene.
Winter Wonderland
Blue artificial grass can be the ideal addition to a winter wonderland-themed event or holiday party. The icy blue hue will enhance the frosty ambience, making it feel like you've stepped into a snowy paradise. Complement the blue turf with white and silver decorations, twinkling lights, and snowflake accents for a magical experience.
Outdoor Movie Nights
Transform your backyard into a cosy outdoor cinema with blue artificial grass. The vibrant colour adds a playful touch to the movie-watching experience, while the soft, cushioned surface provides a comfortable spot for guests to sit and relax. Add some blankets, cushions, and lanterns to create the perfect atmosphere for a fun night under the stars.
Kids' Play Areas
When it comes to designing a play area for kids, injecting some colour and creativity is essential. Blue artificial grass is not only eye-catching but also provides a safe and comfortable surface for children to play on. It's easy to clean and maintain, making it the ideal choice for busy parents and caretakers.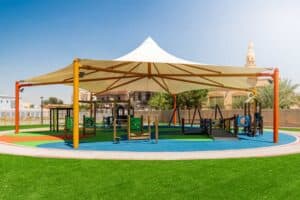 Wedding and Engagement Celebrations
For couples looking to break away from traditional wedding decor, blue artificial grass can be the perfect addition to their special day. The striking blue colour can add an unexpected, modern twist to the celebration. Use it as an aisle runner, a backdrop for photos, or even to cover the entire reception area for a truly unforgettable experience.
Conclusion
Blue artificial grass is a versatile and unique option that can add a splash of colour and excitement to various occasions. From sports-themed events to enchanting winter wonderlands, this vibrant turf can transform any setting into a memorable experience. So, go ahead and experiment with blue artificial grass, and watch your event come to life with a touch of creativity and fun!