4 min read
May 26, 2022
Have you ever considered artificial grass for your office décor?
While we don't often associate grass with indoor environments, artificial turf can bring a natural ambience to your workplace and create a more relaxing and productive environment.
Grass carpets can be used for offices, shops, conferences, or exhibitions and if your business is sports or outdoors-related, then why not create a memorable themed space for your staff and customers to enjoy? Synthetic turf creates a fresh, modern and impressive atmosphere, making your business stand out from the crowd for those all-important client visits.
Having greenery around the workplace can stimulate our senses, improve our attention and concentration levels, as well as help reduce our stress levels, hence why artificial grass can inject some life and personality into your office.
If you're looking to bring more greenery to your office space, look no further! In this post, we have rounded up our top 5 ways you can incorporate fake grass to upscale your design and bring the greenery indoors:
In the meeting room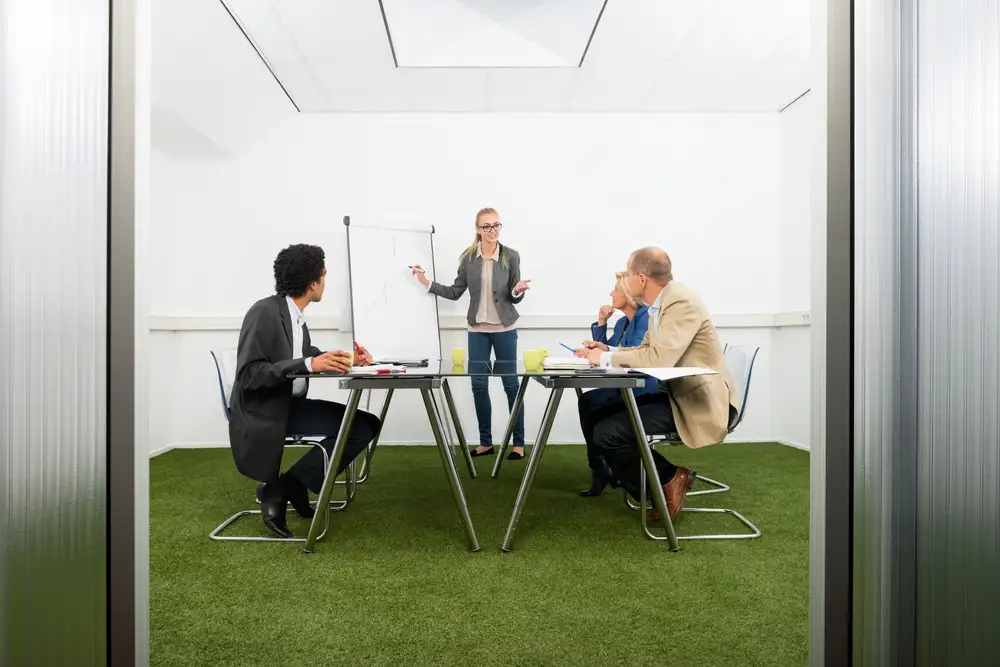 Colours can have psychological effects on your employees and they can heavily influence how we respond and interact within the work environment. As a business owner, it's important to acknowledge how colour schemes play a vital role in your office environment and how they affect people's focus, energy and productivity levels.
Green can add a pop of colour to your office space while promoting harmony, and tranquillity and reducing anxiety. As a result, adding a faux lawn in the meeting room is an ideal way to boost your employee's productivity and creative focus.
In the staff room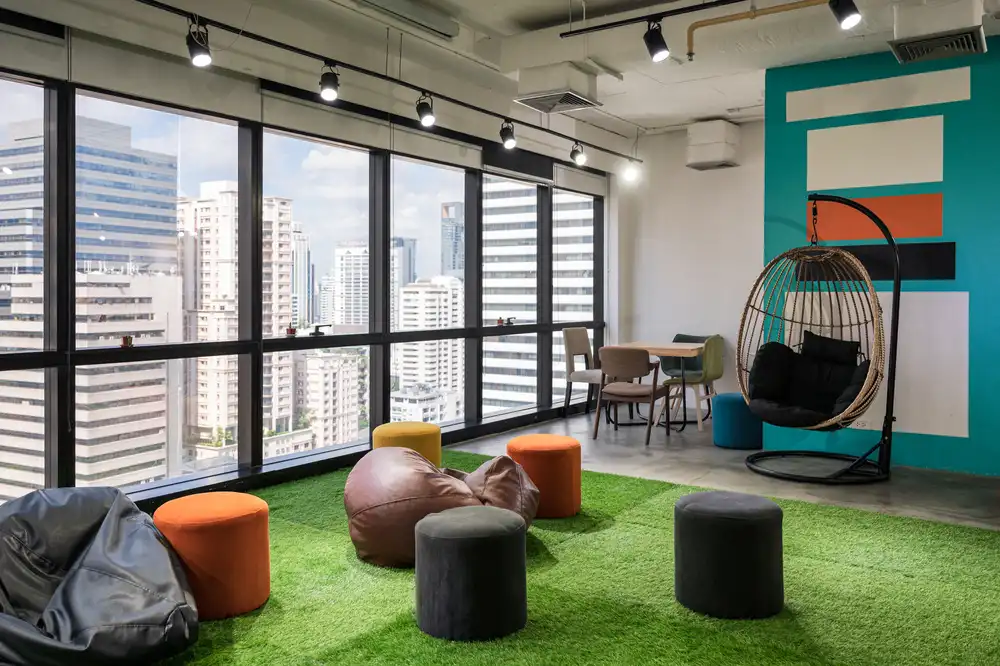 The safety and well-being of your employees should always be your top priority. Apart from the holistic benefits of green spaces, artificial grass in the staff room creates an excellent non-slip surface that can be used to cover tiles or wooden flooring.
On the other hand, installing artificial turf will keep your office looking bright and fresh all year round, as it requires minimum maintenance. Your employees will be able to enjoy a coffee or lunch break surrounded by lush greenery, which will boost their mood and energy throughout the day.
On the stairs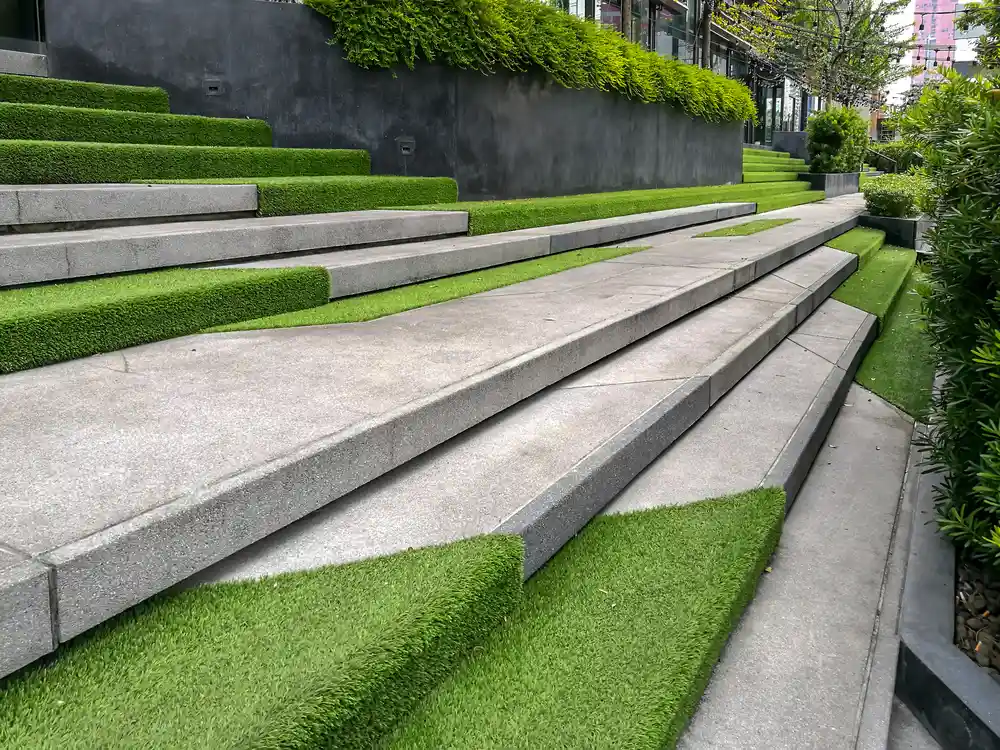 Similarly, installing artificial turf on the stairs is a suitable choice as it will create a non-slip surface and it will add a new layer of comfort underfoot. Additionally, green symbolises growth, hence why it will help your employees be in a calm and relaxed mood before entering the office and starting the day.
Artificial grass is made of non-slip materials and when installed on the stairs, it can diminish the chances of falling. On the other hand, artificial grass has synthetic elements which won't turn yellow under frequent foot traffic.
On the walls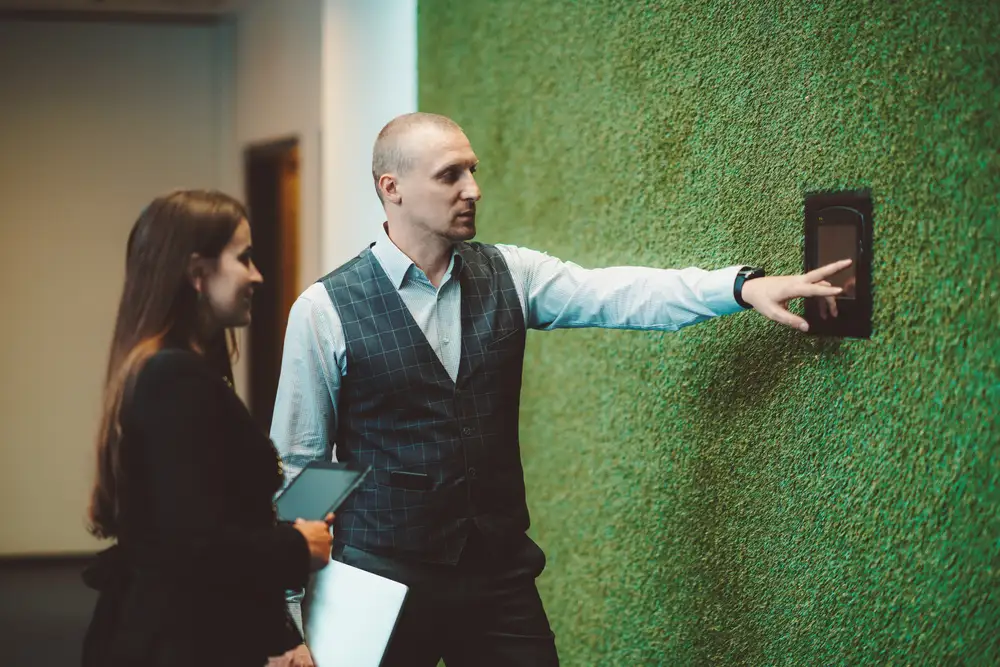 Another way you can incorporate artificial grass into your office décor is by using it as a wall covering.
Due to its synthetic texture, fake grass is highly durable, resilient and can withstand harsh weather. Our natural-looking grass wall designs are the perfect addition to your office space, and they are UV-stabilised to prevent degradation over time.
The green walls are suitable for any concrete surface or brick walls within your office, therefore, you can rest assured our expert team will build a stunning wall display that will bring a refreshing vibe to the space. Our Miracle Artificial Grass lives up to its name and it can work miracles for your office space. Besides being visually appealing, the Miracle Grass is designed to purify the air around you, and actively destroy any viruses and bacteria due to Pureti, the specialist substance it contains.
In the smoking area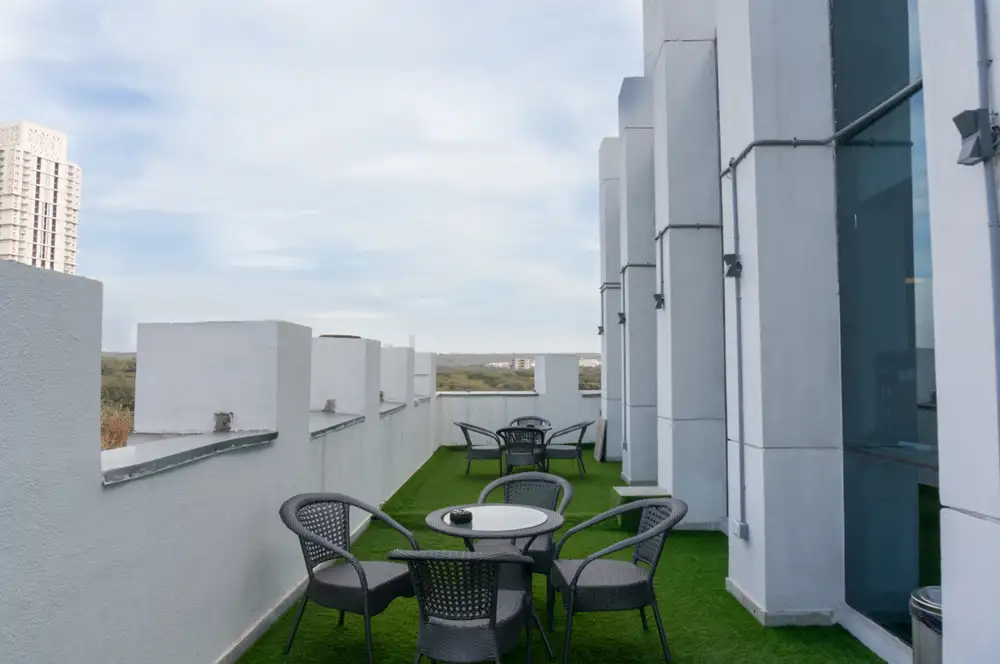 While smokers and vapers are used to going to the less appealing corners in the building to get their fix, this doesn't have to be the case in your office building.
You can revamp the smoking area and use greenery on the floor to create an inviting and welcoming environment, where your employees can enjoy their break and socialise.
However, if you're worried about your staff melting your synthetic lawn by throwing their cigarettes on the floor, fear no more. We provide a Fire Retardant Artificial Grass that has materials with a weak or absent smoke emission level. The 30mm pile height of grass includes thick, sandy-brown thatch running throughout which gives the grass a real feel and look.
About Us
If you love grass but don't want the mess, mud or maintenance, we can install the perfect grass for you. Get in touch with our team today at 0800 035 3357 and let's discuss your needs.