2 min read
November 3, 2021
Looking for artificial grass ideas to enhance your outdoor space? If this sounds like you, keep reading to learn more about how we transformed an unused space into a low-maintenance, green area where our customer can now unwind and enjoy their home.
Here is a quick overview of a recent home improvement project: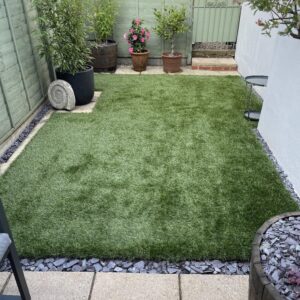 Name: Karen Stretton
Location: Bournemouth
Grass Type: Grandeur 2.0
Our customer has a busy lifestyle and so a natural lawn would be difficult to maintain. As a result, faux grass was the perfect solution. This small garden used synthetic turf to make the area look bigger and was bordered by decorative pebbles to enhance the look of the space.
Previously, the area had just been a few concrete slabs, which would have struggled to look attractive. Although the area was sunny Bournemouth, it would have been difficult for a lawn to receive a lot of natural light, due to the high walls and fencing.
The customer said that they hired a local landscape gardener to conduct the work and their feedback was that the process, in general, was very easy to complete.
Our client couldn't be happier with the results. We used Grandeur 2.0 artificial grass to add the final touches and transform Karen's outdoor space. Whatever your needs, we can turn those dry and awkward grass areas into the perfect environment for you and your family. Let us take your worries away and get in touch with us today to bring your vision to life.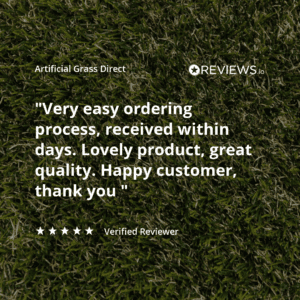 You can view our other artificial grass direct reviews here.