6 min read
November 8, 2022
Artificial grass has become a household staple in recent years. It's gained popularity with good reason – it's grass without the mud or maintenance! In addition, affordable, high-quality artificial grass options are readily available and easy to install.
However, you might not know where to start your artificial grass journey. Don't worry, we're here to help you choose by offering some of our favourite faux lawn garden ideas for homes in the UK. From kiddie corners to dining areas, you're bound to find an artificial grass idea that tickles your fancy.
1. Soft Outdoor Area For Children To Play
Do you have kids? Are you tired of them tracking mud into your home on rainy days? And do you want to provide them with a soft, safe space to play on? Then synthetic grass is the way to go.
There are tons of artificial turf options on the market, including soft grass options that retain their bounce and don't cause any scuffed hands or knees.
Artificial grass will provide your children with a fun and soft play area that stays clean all year round. Not to mention, it means you don't have to worry about grass stains on your children's clothes ever again!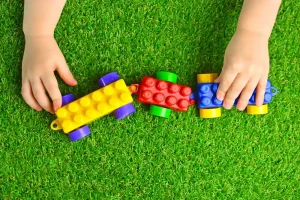 2. Soft Grass Around Pool
A synthetic lawn is the perfect addition to any pool space. Not only does it look good but it also feels good.
You also won't have to deal with dead grass around the pool splash zone or muddy tracks that get your home and pool dirty. It's also a great alternative to brick or stone to border your pool. Additionally, natural grass needs cutting and this can get into the pool, along with other smaller bits of debris. Synthetic turf can also be nicer to sit on when people are sitting around the pool.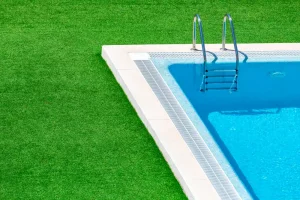 3. Gorgeous Garden Path
If you have tried to perfect your garden path but found the surrounding grass working against you, then artificial grass is the way to go.
Replace the grass surrounding your path with artificial turf for a neat and clean pathway design. Get rid of the patchy grass and enjoy a garden path that's straight from a home catalogue.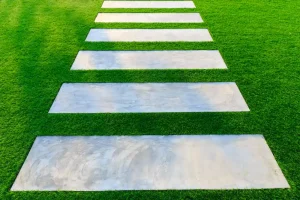 4. Feature Wall
If you have a garden wall that feels a bit bland, make it stand out with beautiful turf. You can play around with different coloured turf and use different shades to create a unique design or you can keep it simple with some standard green turf.
It's the perfect grass option for those looking to create a garden that is a little different from the status quo.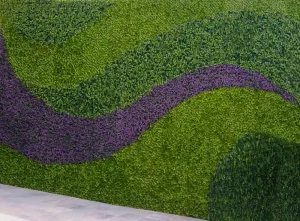 5. Grass Around A Pond
Ponds look better when they are surrounded by lush gardens. Unfortunately, getting that lush garden look can be hard when the grass refuses to rid itself of its patchy ways.
If that's the case, remove the grass and add some fake turf around your pond. It's the perfect addition and will spruce up your pond like never before.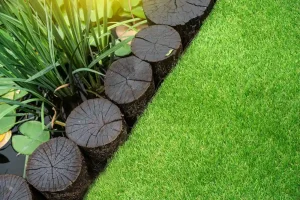 6. Mini Garden Golf Course
If you're looking for something a little more fun, add a mini golf course to your garden. You'll have gorgeous turf six days a week and a fun mini golf course for the one day you feel like being Rory Mcilroy.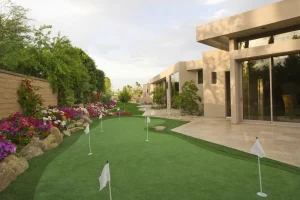 7. Artificial Turf To Neaten Up Terraces
Terraces with natural grass require a lot of upkeep as you have to try to keep everything even and ensure the grass always looks the same or else it can look a bit messy. Artificial grass, on the other hand, is perfect for terraces and yards with different levels or divided areas.
It keeps everything looking neat and cohesive for an impressive garden that looks amazing all year round.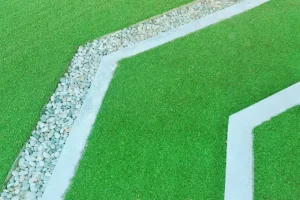 8. A Balcony Garden
If you live in an apartment building in the UK and have a balcony, you can still partake in the joys of turf. Add artificial grass to your balcony and choose a few potted plants to go with it. Place a few chairs and a beanbag around or enjoy the soft grass as is.
Whatever you do, a balcony garden with fake grass is a fun and inexpensive way to create a small, relaxing spot.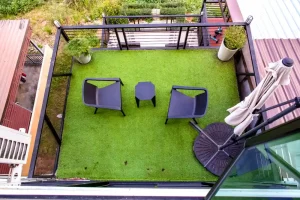 9. Grass Between Pavers
To add some interest to a courtyard or small garden, why not pair some pavers with artificial grass in a design of your choice? A classic option is the checkerboard design with alternating squares of turf and tile pavers.
This type of artificial grass idea will instantly elevate your outdoor space and add a unique flair to your home.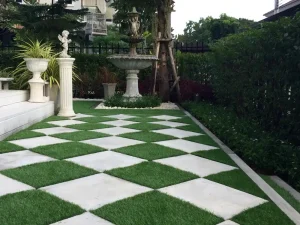 10. Pet Paradise
Most animals love grass and the outdoors. But what do you do when it's raining and all that mud gets tracked into your home? You install artificial grass!
We have artificial grass for dogs that can handle rough play and won't hurt the pads of their paws. As a bonus, it will keep your home mud and stain-free.
11. Play Around With Shapes
Artificial grass is extremely versatile and easy to shape. If you would like to create a garden like no other, you can do so by playing around with shapes and the natural landscape's contour lines. Accentuate your garden's features and bring out your inner creativity with artificial grass.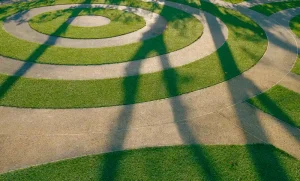 12. An Outdoor Dining Area
Celebrate sunny days with a beautiful outdoor dining or seating area. Because turf bounces back, you won't have to worry about any flat areas caused by furniture or feet. All you need to worry about is who to call for your breezy garden dinner party.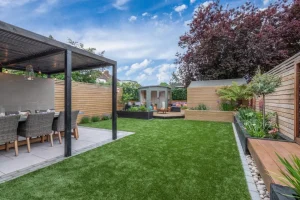 13. Artificial Grass Steps
If you have steps in your garden leading from a lower area to a higher one, covering them with artificial grass is a great way to help them blend in and maintain the flow throughout your garden.
Synthetic grass is also soft so it can make hard, sharp stairs a bit safer if you have children running around and playing outside.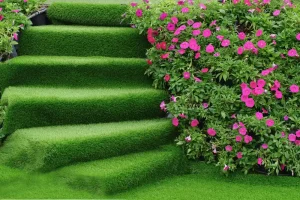 Conclusion
Artificial grass comes in many colours, shapes, and sizes, and its capabilities are only limited by your imagination. Choose one of the 13 ideas above or use it as kindling for your creativity and spruce up your garden with fake grass.