6 min read
October 31, 2022
We all admire a beautiful expanse of lawn, but for some people, this just isn't an option. That's why the use of artificial grass is gaining in popularity.
Artificial grass is a durable, low-maintenance and water-wise option for those who want the beauty of a well-kept lawn without the hassle.
However, although it requires less maintenance and effort than a regular lawn, you'll still need a good artificial grass drainage system to keep your turf in great shape. Read on to find out what an artificial grass drainage system is, why it's important and more.
What Is A Drainage System For Artificial Grass?
Artificial grass, unlike regular natural grass, does not need to be watered – making it perfect for water conservation. However, it gets watered by rain and therefore requires a drainage system to deal with that water.
Just like with conventional grass, artificial grass will allow water to seep through and down to the water table. It usually does so through drainage holes in the backing material of the product.
Most of the time, this is a simple and uncomplicated process. However, when the drainage system fails, water can become trapped on or just under your layer of artificial turf. This can wreak havoc, particularly during times of heavy rain, which can lead to flooding.
Why Is It Important?
There are many reasons why good drainage is essential for artificial grass. Poor drainage can cause all sorts of issues including the following:
Trapped water can lead to unevenness and instability, which could cause accidental falls.
Stagnant water that accumulates may result in mould, moss, and mildew.
Pooled water can render your front yard unusable as no one wants to walk in puddles!
Poor drainage can result in your surrounding flowerbeds being flooded, meaning your plants may drown.
Trapped water may ice over in the wintertime, increasing the risk of slipping and injuring yourself.
Ineffective drainage also reduces the longevity of your artificial grass.
Reasons For Poor Drainage Of Artificial Grass
Usually, artificial grass products drain well with very few issues. When problems with poor drainage are experienced, it is often attributable to one of two factors: incorrect installation or geological problems.
Installation Errors
One of the most important aspects of a good drainage system is the sub-base. Before installing artificial grass, you need to lay down a layer of aggregate that water can easily filter through like sharp sand. This sub-base also provides a firm, even foundation to support the foot traffic over your artificial grass.
Another installation error is installing artificial grass over an existing surface, like concrete or tarmac, without creating drainage holes for water to filter through into the ground below.
Geological Difficulties
It's very important to pay attention to the geology of the area before laying artificial grass. Not only will an uneven surface cause ineffective drainage, but the soil type beneath can also pose a problem – especially if you have clay soil.
Clay soil is one of the six main types of soil found throughout the UK. The problem with clay is that it is not suitable for drainage, as it is not very permeable.
Clay soil is usually very compacted and water can't easily filter through it. As a result, if artificial grass is laid over clay, you'll end up with flooding.
It is possible to lay artificial grass over clay soil, but this issue needs to be addressed first. You'll need to break up the top layer of compact clay, excavate some of the clay, and fill in the area with a well-draining aggregate.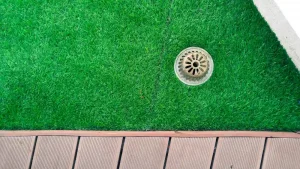 How To Implement A Good Artificial Grass Drainage System
The reasons for a good drainage system should now be abundantly clear. But how can you make sure that you'll have good drainage when you lay your artificial grass? Here are some things to keep in mind:
Only purchase good-quality artificial grass from reputable dealers. If unsure, enquire whether the product has adequate drainage holes. If you are unable to install it yourself, choose a reputable installer with experience in laying artificial grass.
Avoid laying artificial grass on bases that do not allow drainage or that offer inadequate draining. Concrete yards, tarred surfaces, and paving stone slabs are not the best bases. These materials would have to be removed before laying a well-draining aggregate layer. Alternatively, you'd need to drill drainage holes in these hard surfaces before laying your artificial grass.
In the case of laying artificial grass on wooden decking, pay special attention to drainage issues. Ensure that any adhesive you use to apply your artificial grass to your deck does not block the drainage holes in the backing.
Permeable materials are best suited for the aggregate layer under your artificial grass. This means that they allow water to pass through them. Crushed rock is an example of a permeable aggregate substance. A layer of up to 4 inches (10 cm) thick is more than sufficient.
If your yard is slightly sloped, consider adding a simple ditch or French ditch to help channel water away from your artificial turf. French ditches are great if you want a drainage system that isn't visible. It involves digging a trench and filling it with gravel before laying your sub-base and artificial grass. This creates a space that water can easily drain into so that it doesn't pool.
Conclusion
With a top-quality artificial grass product, and an effective grass drainage system, everyone can enjoy the look of a lush, green lawn. Just make sure you check that your soil allows for drainage and be sure to pick the right sub-base material, and you should have no problems!
Whether you're about to install artificial grass for the first time or are noticing some drainage issues, we're here to help. We have over 15 years of experience with this product and can help you create the artificial yard of your dreams. Contact us with any queries you may have about artificial grass drainage.