3 min read
September 11, 2020
Artificial lawns are meant to last. They can withstand all weathers and can survive wear and tear too, all with little maintenance which is what makes them such a popular choice for many homeowners.
Whilst very little maintenance is required to keep your artificial lawn in top condition, it is still wise that you clean it properly and look after it in order to further increase its longevity. After all, it is an investment, so you want to make the most of it.
Cleaning general debris from your fake grass
Remove dust, dirt, leaves and other bits of debris from your lawn with either a flexible lawn rake or a broom with stiff bristles. Avoid using a brush with steel bristles as this could tug on your artificial lawn and damage it. Whilst this small debris won't damage your fake grass or sink into its soil, it will change the appearance and removing this debris will make your grass appear cleaner and greener.
Whilst artificial grass is set to withstand harsh weathers like snow and ice, it's wise to still keep it clean during the colder seasons. Snow should be left to naturally drain away on your lawn, as rain would, however, if it's essential that you move the snow then you should always take care. Using a shovel can mean slamming a sharp-edged tool into the grass which could damage it.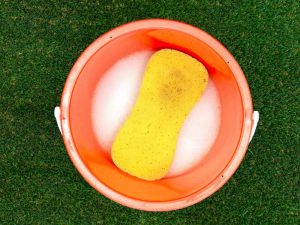 Cleaning Spillages
With guests and garden parties, spillages are bound to happen. It's important that you don't rush to mop it up with a harsh chemical or cleaning agent like bleach would discolour or damage your lawn. Washing away spillages with water will work fine!
Cleaning pet waste from your synthetic lawn
If you have pets, then your lawn is certainly going to be susceptible to the odd accident. If your pet does choose to go to the toilet on your artificial grass then the most important thing is not to panic, but to take fast action. Clear away solids as you would on a walk with a bag or scoop, and for liquid waste rinse away with water to prevent staining. To eliminate odours from pet waste then check out our 25kg bag of ZeoZorb: a top dog turf that is used underneath the artificial grass and sprinkled on the lawn too. You can also check out the range of dog-friendly artificial grass range designed for pet owners.
We are the UK's premier supplier for artificial grass and we won't be beaten on price so be sure to get in touch today for all your artificial lawn needs