6 min read
January 17, 2023
Artificial grass, also known as synthetic turf, has come a long way in recent years. It's a popular alternative to natural grass for many homeowners, businesses, and public spaces.
However, despite its many benefits, there are still many misconceptions about artificial grass that persist. In this blog post, we debunk the top 10 myths and misconceptions about artificial grass, so you can decide whether it's the right choice for you.
1. Artificial Grass Looks Fake
Many people believe that artificial grass looks fake and unnatural. This was the case in the past. Older versions of artificial grass had a shiny, plastic-like appearance and a uniform texture. However, modern artificial grass has come a long way regarding realism and natural appearance.
Today's artificial grass looks and feels like natural grass, with different textures, shades, and even thatch layers.
At Artificial Grass Direct, we use different shades of green to mimic the natural variation of real grass.
The fibres of the artificial grass can also mimic the texture of real grass, whether it's a freshly mown front lawn or a premium show garden.
2. Artificial Grass Is Not Comfortable To Walk On
In the past, manufacturers made artificial grass with stiff, plastic-like fibres. These fibres weren't very pleasant to walk or play on.
However, today's artificial grass comes with soft, springy fibres that provide a more natural and comfortable feel. The softer feel is due to the design and construction of the blades. This design allows the grass to spring back when compressed, imitating how natural grass reacts to touch.
Advances in manufacturing techniques have also allowed the fibres to be tufted more densely, giving the artificial turf a more lush and realistic look and feel.
3. Artificial Grass Is Not Durable And Will Quickly Wear Out
Artificial grass is made from durable synthetic materials that can withstand heavy use and extreme weather conditions.
Unlike natural grass, which heavy foot traffic can quickly damage, artificial grass is more resistant to wear and tear. This means it can maintain its lush, green appearance and good quality for many years with proper maintenance.
4. Artificial Grass Is Not Safe For Pets
Artificial grass is safe for pets if they don't ingest it. The fibres used to make artificial grass are typically non-toxic and won't harm your pet if they come into contact with it.
Artificial grass also offers several benefits for pet owners. If pets use the artificial grass area for their needs, pet-safe artificial grass makes it easier to clean up. It's less likely to develop a bad smell, stains and bacteria. To help with that, we also sell ZeoZorb, a special substance that is used alongside artificial grass to help eliminate odours from pet wee.
5. Artificial Grass Is Difficult To Install And Maintain
Installing artificial grass can be a relatively straightforward process. It also doesn't require much maintenance compared to natural grass.
You'll need to prepare the area by removing turf or plants to install artificial grass. Level the ground and lay a weed barrier. Once the site is ready, you can roll out the artificial grass and cut it to the appropriate size. Read our DIY installation guide.
After that, you'll need to secure the artificial grass, usually by using a special adhesive or installing fixing pins. Once you've installed the artificial grass, maintenance is minimal.
You can easily clean artificial grass. Use a simple power broom, leaf blower, or even a broom and rake to remove debris and leaves from the surface of the artificial grass.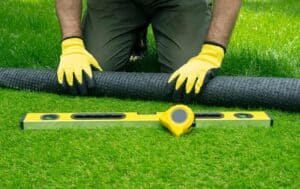 6. Artificial Grass Is Not Suitable For Sports And Recreational Activities
Artificial grass is perfect for sports and recreational activities because of its durability and low maintenance. It's completely safe to play on!
One of the main benefits of artificial grass for sports and recreational activities is that it doesn't get muddy. In contrast to natural grass, which can become muddy and slippery when it rains, artificial grass drains well if you have installed a good drainage solution.
7. Artificial Grass Is Not Cost-effective
Artificial grass may have a higher upfront cost than natural grass, but it can save money over time.  One of the main cost-saving benefits of artificial grass is that it doesn't require regular watering, mowing, or fertilising like natural grass.
Watering natural grass to keep it green and healthy can be costly, especially if you live in an area with high water bills. In addition, natural grass needs to be mowed and fertilised regularly, which can be time-consuming and costly.
Artificial grass doesn't require any of these things, saving you time and money on maintenance.
8. Artificial Grass Doesn't Drain Well
A good drainage system is essential when installing synthetic grass, as poor drainage can lead to waterlogging and other issues.
Artificial grass is typically constructed with drainage holes built into the turf's backing. These drainage holes are strategically placed throughout the backing material to allow water to pass through.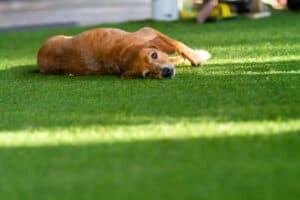 9. Artificial Grass Is Not A Good Choice For People With Allergies
Artificial grass is made from synthetic materials. These materials don't produce pollen, mould, or other allergens that can cause allergic reactions. As such, it is hypoallergenic.
It's less likely to cause allergic reactions compared to natural grass, which can produce a variety of allergens that can affect people with allergies. Natural grass produces pollen and mould spores, common allergens that can trigger hay fever and other allergic reactions in some people.
10. Artificial Grass Is Not Suitable For Use In Public Spaces
Synthetic grass can create visually appealing landscapes that complement the surrounding architecture and enhance a public space's overall aesthetic appeal.
Another benefit of artificial grass for public spaces is that it's easy to maintain. Unlike natural grass, which requires regular mowing, fertilisation, and irrigation, artificial grass only needs to be brushed or swept occasionally to remove debris. This makes it a cost-effective option for public spaces.
Conclusion
Artificial grass is a versatile and durable alternative to natural grass. It can save homeowners, businesses and public spaces time, money and resources in the long run.
If you're looking to transform your outdoor space with the beauty and function of grass without the maintenance of natural grass, then check out our range of artificial turf today.