5 min read
May 11, 2023
Are you a festival organiser seeking an innovative and eco-friendly solution to elevate your event's visual appeal, attendee experience, and sustainability? Look no further than artificial grass!
In this blog post, we'll explain in detail why we recommend the usage of an artificial grass surface to create a unique, no-maintenance space.
Embrace the future of festival organisation by incorporating artificial grass into your event and witness a transformation that leaves a lasting impression on your guests.
Travelling to festivals
Many people choose to travel to festivals in campervans, and owners could benefit from using artificial grass in their vehicles. While you can't escape the inevitable mud at a festival, installing removable pieces of artificial grass carpet will mean that your van stays protected from muddy feet, allowing you to quickly and easily remove the carpet and wash the dirt off.
Mud free festivals
When it comes to festival and event flooring, artificial grass could prove to be a useful solution. Hard-wearing and fully porous, artificial turf won't be worn away into muddy puddles just because of a bit of rain and heavy footfall at an event.
Natural turf is notorious for quickly transforming into a muddy bog at festivals, and organisers often end up footing the bill for repairs after the fun is over. While it won't prevent those really deep puddles, artificial grass will stay a great deal drier than its natural counterpart, saving you time, and money and keeping revellers clean and comfortable.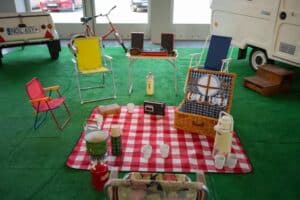 Reduced Environmental Impact
Traditional grass requires extensive water usage, fertilisers, and pesticides to maintain its pristine appearance. Artificial grass, on the other hand, requires minimal resources and eliminates the need for harmful chemicals. By opting for artificial grass, festivals can significantly reduce their carbon footprint and contribute to global sustainability efforts
Enhanced Aesthetics
An essential aspect of any festival is its visual appeal. Artificial grass offers a consistently lush and vibrant appearance, providing an attractive and inviting environment for festival-goers. This polished look can contribute to a more enjoyable and memorable experience, while also elevating the overall ambience of the event.
Improved Safety
Rain and muddy conditions can pose significant safety hazards at festivals, increasing the risk of slips, falls, and injuries. Artificial grass provides a non-slip surface that remains safe and functional in all weather conditions. Additionally, it is designed to be hypoallergenic, reducing the risk of allergies and respiratory issues for attendees.
Versatility and Customisation
Artificial grass is available in various colours and styles, allowing festival organisers to create unique and thematic environments. There are various colours available such as pink artificial grass and blue fake grass. This customisation can enhance the visual appeal of the event, promote branding, and contribute to a more immersive experience for attendees. Artificial grass is a material that can be used in so many creative ways at festivals:
Funky Decor
Food Truck Shop Floor
Seating Areas
Photo Booth Background
Yoga and Meditation Zones
Art Installations
Dance Floors
Children's Play Areas
Entrance Pathways
Outdoor Cinema Areas
Merchandise Stalls
Pop-up Bars
VIP Lounge Areas
Sponsor Booths
Chill-out Zones
Temporary Walkways
Performance Spaces
Workshop Areas
Information Centers
Restroom Pathways
Faster Setup and Cleanup
Setting up and breaking down a festival can be a time-consuming and labour-intensive process. Artificial grass can be quickly installed and removed, streamlining the preparation and cleanup phases. This efficiency ultimately reduces the environmental impact and labour costs associated with the event.
It can be reused for multiple festivals
Festival can last a few days but artificial grass is a resistant material that could withstand the wear and tear of these events. In fact, with artificial grass with the right technical specification, organisers could be able to reuse it across multiple events, saving quite a lot of money for their of décor budget.
Frequently Asked Questions
Can you install artificial grass on the decking?
Yes, it is possible to install synthetic grass onto decking, please see our in-depth guide here: How to lay artificial grass onto decking. Additionally, it can be attached to walls, wooden panels, ceilings, and other surfaces to create unique, immersive, and visually striking environments for various festival zones.
What about concrete?
Artificial grass can be easily installed on concrete surfaces by using a shock pad or underlay for comfort and adhesive for secure placement.
What is the lead time required for the delivery and installation of the artificial grass prior to the event?
Every effort is made to dispatch the products to you within 10 working days depending on the area and size of the order. Every effort is made to fulfil orders as soon as possible. In terms of installation, we have the largest Network of Artificial Grass Installers in the UK and we are constantly helping our customers find the best landscapers and installers in their local area.
Can your artificial grass be customized in terms of colour, pattern, or branding to match our festival's theme?
Absolutely, we have experience in supplying artificial grass to outdoor/indoor playgrounds which often require bespoke colouring and markings (like traffic roads for example) so we can absolutely cater to your festival's specific theme and branding needs.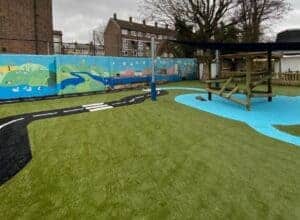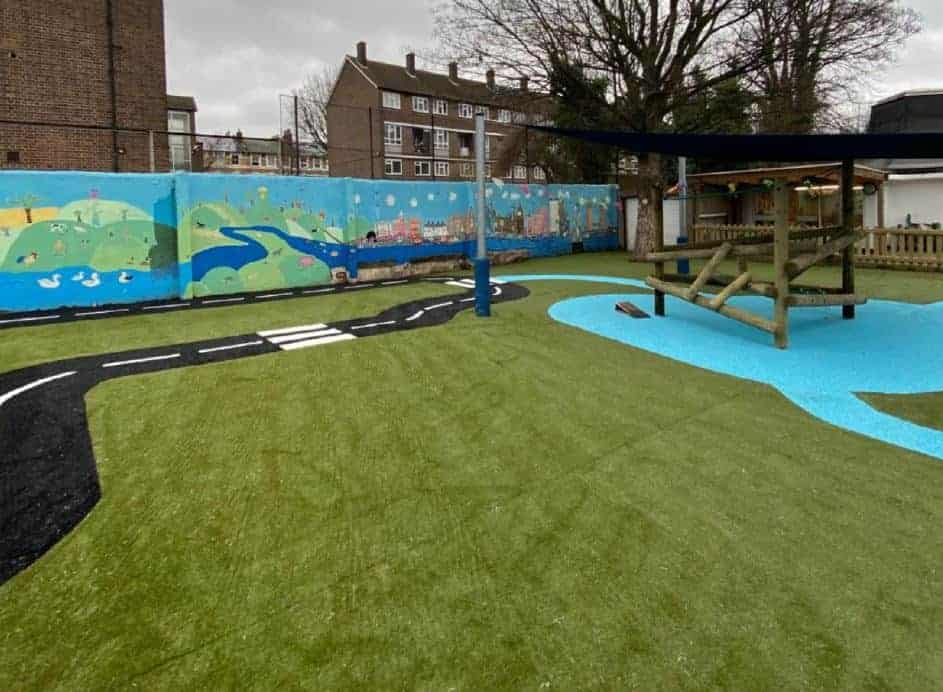 At Artificial Grass Direct, we are ready for the festival season! Reach out to us now and embark on a greener, more vibrant festival journey with artificial grass by your side! Browse our wide range of fake grass or order some free samples to see for yourself!