5 min read
May 10, 2023
In recent years, artificial grass has become increasingly popular for various applications, ranging from residential landscaping to sports fields and commercial spaces. This surge in demand can be attributed to the numerous advantages offered by synthetic turf, such as low maintenance, affordable cost, and aesthetic appeal.
However, with a multitude of options available in the market, understanding the technical aspects of artificial grass becomes essential to make informed decisions. In this article, we delve into the world of artificial grass, dissecting its key technical characteristics. We are going to use our own technical specifications, using the values of one of our best sellers: The Elite Artificial Grass
Fibre: 75% PE / 25% PE straight / curled
The artificial grass is made up of 75% Polyethylene (PE) fibers, with a combination of straight and curled fibers making up the remaining 25%. PE is a common material used in artificial grass due to its durability, flexibility, and resilience.
Fibre Shape: W-shape + C Rib + Xtra Spine Technology
The fibres have a W-shape, C Rib, and Xtra Spine technology, which help create a more natural look and feel while providing better resilience and durability.
Pile height: ca. 40mm
The height of the grass blades is approximately 40 millimetres, which contributes to its overall appearance and comfort.
Stitches: ca. 23/10 cm
There are approximately 23 stitches per 10 centimetres, which indicates the density of the grass fibres.
Production: Tufting
The grass fibres are tufted (sewn) into the backing material, which is a common method for producing artificial grass. The tufting production method ensures a strong bond between the grass fibers and the backing material, resulting in a high-quality and long-lasting product.
Gauge: 3/8"
The gauge refers to the distance between the stitched rows of fibres, which in this case is 3/8 inches. A gauge of 3/8" provides the right spacing between stitched rows for optimal density and uniformity, creating a consistently lush and even appearance.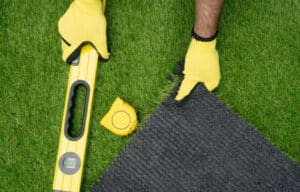 Tufts: ca. 24,150 / m2
There are approximately 24,150 tufts (grass fibres) per square meter, which shows the overall density of the product. A high tuft count per square meter ensures a dense and full surface, which is essential for both aesthetic appeal and performance.
Pile weight: ca. 1,868 gr / m2
The weight of the grass fibres per square meter is approximately 1,868 grams. A pile weight of 1,868 grams per square meter indicates a high-quality product with substantial fibre density, contributing to its longevity and comfort.
Total weight: ca. 2,838 gr / m2
The total weight of the product, including both the grass fibres and backing materials, is approximately 2,838 grams per square meter.
Tuft cloth: Polypropylene woven, ca. 170 gr / m2
The tuft cloth is made from woven polypropylene and weighs approximately 170 grams per square meter. A woven polypropylene tuft cloth provides a strong and stable base for the grass fibers, ensuring excellent product performance and longevity.
Backing: Pre-coat, ca. 800 gr / m2
The backing material has a pre-coat applied, which weighs approximately 800 grams per square meter. A pre-coated backing material adds an extra layer of protection and stability, enhancing the overall durability of the artificial grass.
Roll width: 400 cm
The width of the artificial grass roll is 400 centimetres. A roll width of 400 cm allows for versatile installation options and minimal seam visibility, catering to various project sizes and requirements.
Roll length: ±25 m
The length of the artificial grass roll is approximately 25 meters. A roll length of approximately 25 meters provides ample coverage for most projects, reducing the need for multiple rolls and resulting in a more seamless appearance.
UV Stability: > 3,000 hours UV-A │6,000 hours XENON Light fastness: Scale 7 (DIN 54004)
The artificial grass has a UV stability rating of over 3,000 hours for UV-A exposure and 6,000 hours for XENON light exposure, which indicates its resistance to fading and degradation caused by sunlight. Excellent UV stability ensures that the artificial grass maintains its colour and integrity even under prolonged exposure to sunlight.
Chlorine resistance: 4 – 5 (DIN 54019)
The grass has a chlorine resistance rating of 4 to 5, which means it can withstand exposure to chlorine, such as in poolside installations.
Resistance to sea water: 4 – 5 (DIN 54007)
The grass has a seawater resistance rating of 4 to 5, which means it can withstand exposure to seawater, making it suitable for coastal installations.
Conclusion
In conclusion, artificial grass has come a long way in terms of technology, materials, and construction techniques, resulting in a wide range of high-quality, durable, and aesthetically pleasing products. Understanding the technical specifications of artificial grass is crucial for selecting the right synthetic turf solution for your needs.
At Artificial Grass Direct, we strive to help you find the perfect fake grass no matter what your project is. We are proud of our products and stand by their quality, performance, and durability. We offer an extensive range of synthetic turf options tailored to various applications, from residential lawns and pet-friendly areas to commercial spaces and sports facilities.
Our knowledgeable team is dedicated to providing personalized guidance and support throughout the selection process, ensuring you make the best possible choice for your unique needs. Feel free to contact our friendly team today, browse our extensive range of artificial grass or request free samples to experience the quality and appearance of our products firsthand