4 min read
May 31, 2023
As summer approaches, it is only natural for homeowners to worry about the state of their outdoor spaces, including their artificial grass installations. It's true, our British summers aren't quite as scorching as those in southern Spain, but even so, when the sun is beaming directly onto your synthetic turf, it is only normal to wonder if it is damaging it.
For those of you contemplating adding a touch of everlasting greenery to your backyard with a brand new fake grass, you're likely doing your due diligence before making a purchase. That's why we thought it would be beneficial to develop a blog post addressing your concerns – how does artificial grass withstand the summer sunlight?
Does synthetic grass fare well under the summer sun?
Artificial grass of high quality will withstand the heat from the sun for years. They are designed for outdoor use and to be resistant to harsh weather conditions, including intense sunlight, heavy rain, and even snow.
Numerous individuals residing in sunny countries, such as Spain, Italy, or Portugal, have opted for the installation of artificial turf in their homes. In fact, synthetic grass has become increasingly popular in countries experiencing hot climates. This popularity is primarily driven by the critical need to conserve water resources, an issue of heightened importance in these warmer regions.
In addition, artificial grass is a popular choice for outdoor playgrounds. Not only does it have to withstand exposure to the sun and varying weather conditions, but it must also endure the energetic play and constant running around of children. Fake grass is also used for summer festivals.
So trust us, if fake grass can last in those conditions, it will last in our garden! Now let's have a look at what makes artificial grass heat resistant.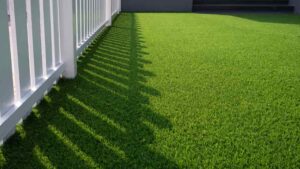 The heat-resistant properties of artificial grass
Understanding how artificial grass reacts to the sun starts with comprehending the materials and manufacturing processes involved. Most artificial grass products are primarily made from synthetic materials like polyethylene, polypropylene, and nylon. They are also designed to resist UV radiation, hence preventing them from fading or breaking down when exposed to the sun.
As we explained in our guide to artificial technical features, our fake grass has a UV stability rating of over 3,000 hours for UV-A exposure and 6,000 hours for XENON light exposure, which indicates its resistance to fading and degradation caused by sunlight. Excellent UV stability ensures that the artificial grass maintains its colour and integrity even under prolonged exposure to sunlight.
We even offer artificial grass with built-in fire-retardant technology!
Without this manufacturing process, ultraviolet (UV) radiation could potentially be harmful to artificial grass, mainly in two forms:
Colour Fading: Constant exposure to UV radiation can cause the colour of the synthetic grass to fade over time. This can result in your once vibrant green lawn looking dull or bleached.
Material Degradation: UV radiation can also break down synthetic materials over time, causing them to become brittle. This can lead to a shorter lifespan of the artificial grass as it can start to fray or lose its structural integrity more quickly.
Maintenance & care tips for artificial grass during hot summers
While artificial grass requires less maintenance than natural grass, there are a few care tips that can help keep it looking its best during the hot summer months. Artificial Grass can become hot under prolonged exposure to sunlight, so regularly rinsing it with water will not only help to keep it cool but also helps to keep your fake lawn clean.
Just like any synthetic material, Artificial grass can melt if exposed to direct high heat, so avoid placing barbecues, outdoor heaters, or fire pits directly on it. Always use a protective barrier between any heat source and the fake grass. We also advise against using lighting fireworks on top of artificial grass (notably during bonfire night).
Furthermore, using a specialised broom to brush your artificial turf will help to keep the blades upright and maintain the natural look of your lawn.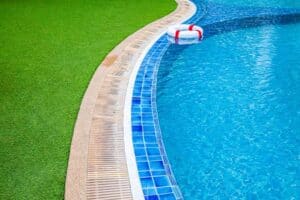 At Artificial Grass Direct, we don't just sell a product; we offer a promise. We understand that investing in artificial grass is a significant decision for homeowners. That's why we stand firmly behind the quality and durability of our products. We're proud to offer a robust product guarantee of 10 years on our artificial grass.
Should you have any additional questions, please visit our FAQ page or contact our friendly team. You may also want to order a free sample to gauge the quality of our fake turf with your own eyes. Additionally, you may want to check out what our valued customers have to say about our products.