2 min read
July 18, 2019
Whether you have toddlers, children, or pets running around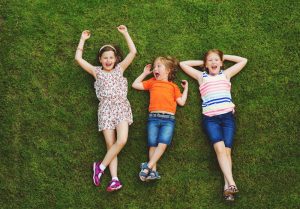 your garden, you want to make sure that where they are playing is safe. If you find yourself wondering "How safe is Artificial Grass?", then worry not. Artificial grass is completely safe and is regulated to high standards to ensure it is safe. In fact, there are several areas where there are even benefits to artificial grass over natural which could actually make it a better option to have installed for your family:
Helping with those Trips and Tumbles
Outdoor play should be encouraged come rain or shine. It is proven to improve physical and emotional well-being and is a good source of fresh air and Vitamin D. Patchy, uneven grass, however, can quickly put a stop to this and have a play session come crashing down, quite literally.
Synthetic grass is a sustained, thick coat of realistic grass which, paired with the underlay, provides that much-needed cushion when they need it most. Artificial grass safety is our top priority!
No Unintended Sliding When Wet
As faux turf does not require soil, it does not get as slippery when wet. This is useful in the summer months, when the children are potentially getting in and out of paddling pools, as well as in the Autumn and Winter months when there is more rain. A wet surface shouldn't put a stop to activities and fake grass can be used all year round.
Easy Artificial Grass Cleaning Keeps Pet Maintenance a Breeze
If you are wondering whether artificial grass is safe for pets as well, then be reassured in the fact that the same rigorously tested high standards for your children are also present to keep your four-legged friends safe.
Artificial turf is in fact, the perfect option for families with pets, on top of our range of pet-friendly fake grass, our standard grass can be cleaned whenever needed, giving you control of how clean you would like your garden. Perfect for when your pets and children will be sharing the same space.
If you are still wondering whether an artificial lawn is right for your home, then please get in touch with us today and we would be happy to offer you a consultation! Alternatively, you may check out our artificial grass reviews to see what our customers think of our products.