3 min read
July 10, 2019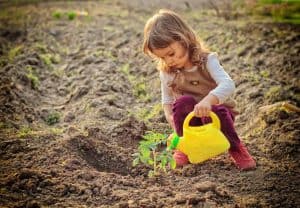 It's summertime, the kids are on holiday, and you are racking your brain trying to think of ways to get them outside. There's more to do outside than just a BBQ so we at Artificial Grass Direct are thrilled to  share some of our favourite garden activities for kids that you can take advantage of during these summer months
Outdoor Cinema
One of the more unique kid's garden activities but always a treasured one, and you will score major parenting points for pulling it off. Make sure you have a good patch of land where everyone can get comfortable, set up a projector and a white sheet, plug in a laptop or a tablet, and bring plenty of snacks!
Be confident that it is clean and safe with some artificial grass, easily cleaned and free from bugs it gives an authentic grass feeling without the drawbacks.
Paddling Pool Party
The perfect way to enjoy the sunny days is with a refreshing dip in the paddling pool. There is a wide range available, but our personal recommendation is for the inflatable options, as they're much easier to store. Pair one of these with a couple of water pistols and you'll have a hard time getting them back into the house! Hours of garden fun!
You can relax in the knowledge that, with artificial grass, you won't have to deal with any mud being tracked onto your floors.
Scavenger Hunt
A scavenger hunt for kids is always looked back on as a great memory, and it is so easy to set up! You can either hide specific items from around the house, collectables – like tokens, or eggs – or just have a list of things found in the garden for the children to find.
Go the extra mile and come up with a theme to tie the whole thing together. This could be buried treasure, amazon exploration, or the search for alien life! Write up or print off a checklist and send them on their way.
Arts and Crafts
Making something with your children is always valuable bonding time. So why not take some of these ideas for some fun kids' outdoor arts and crafts?
Mini-Scarecrows
Create these adorable little helpers to keep your garden safe from pests. All you need is some old fabric, thin wood for the frame, and some thread.
Growing your own Sunflowers?
What is better in the eyes of a child than watching something they have planted grow into a full flower? Make a little plot in your garden or keep them in a pot and teach your children how to look after them.
Painted Stone Decorations
These cute, unique garden decorations breathe personality into your home and are a good way for your child to express their personality. Below are a few examples of our favourites but feel free to make them completely yours.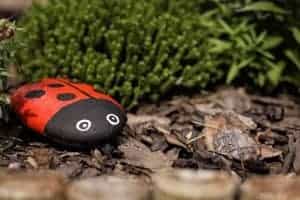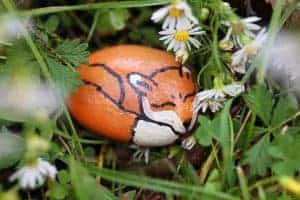 If you are wanting to set any of these up but think your garden is looking a bit drab, why not consider artificial grass? Take a look at our range today to see which option works best for you! Alternatively, you may also check out our artificial grass reviews to see what our customers think of our products.