3 min read
October 12, 2018
Just because summer is over doesn't mean your garden has to go into hibernation. We here at Artificial Grass Direct are firm believers that gardens should be enjoyed all year 'round. There are multiple ways you can season-proof your garden and artificial turf is one of them but there are also plenty of plants that can help liven up your garden no matter what autumn has in store.
Dahlia
Dahlias come in a variety of colours and traditionally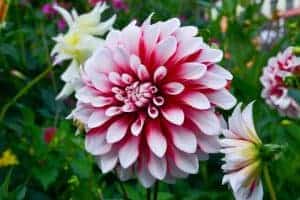 bloom towards the end of summer, but look their best from September onwards. Closely related to Sunflowers, Dahlias share the ability to grow quite large (up to 30cm for the 'Dinnerplate' variety). Dahlias do well in larger pots of around 2-3 litres and require fertile soil with ample moisture and good drainage. It's worth noting that all Dahlias grow at different rates so don't be discouraged if some appear to be thriving and others seem to be taking their time.
Crocus
Crocuses are ideal for planting in October and are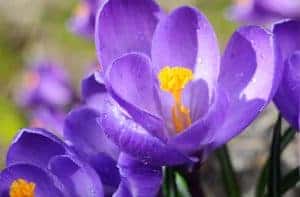 perfect for adding a splash of colour to your garden. Like Dahlias, they come in a variety of colours including pinks, purples, reds, oranges, and yellows. Crocuses have no problem growing in pots or flower beds and look their best when planted in clusters of 5-10 plants. Whilst these flowers prove hardy in the colder, rainier months, be mindful of heavy rain since water-clogging can be detrimental to their health.
Spring Onions
If you're looking for a vegetable that will grow all year 'round, then don't let the name fool you. Spring Onions (and other salad onion varieties) can grow quite happily in the autumn and are perfectly suited to growing in pots and containers as they don't need particularly deep soil. October is the perfect time to sew Spring Onion seeds for an early spring crop which can be harvested at 8-week intervals all year 'round.
Perpetual Spinach 
A member of the Chard family, Perpetual Spinach is a big leafy vegetable that actually prefers cold weather. As the name suggests, Perpetual Spinach continually produces new crops throughout the year. The plant is very forgiving and can live in the shadier parts of your garden. The soil needs to be kept moist and the leaves need to be trimmed occasionally to maintain a healthy plant.
Raspberries
Autumn is the perfect time of year for planting berries.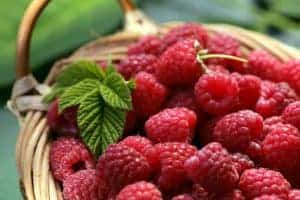 Raspberries do particularly well in autumn using the colder months to grow lots of green leaves and beautiful flowers. Autumn Raspberries produce fruit from late summer right through to the frostier months of winter. They have no trouble growing in the right size pot but it's worth noting that berries grown in containers dry out a lot faster than berries planted in the ground, so they will need more water. Just make sure to use a container with drainage holes as roots left in standing water will rot.