4 min read
April 3, 2018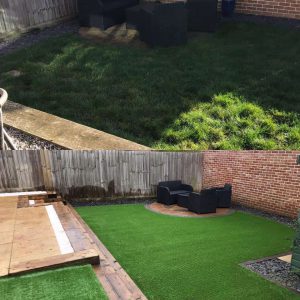 When springtime rolls around, the nicer weather offers the perfect chance to get outside and spruce up your garden. That way, when you hit the summer months, you'll have a lovely spot in which to relax. Better yet, you'll find you have less maintenance work to do as you've already got most of it out of the way. To help you with the task, here are nine top tips for spring cleaning your garden properly.
1. Repair any broken sheds or fences
With the high winds and stormy weather that winter brought, it could be that you have a lot of wooden panelling in need of repair. Also, you'll find that fences and sheds can wear down over time. Spring is the perfect time to get to work, especially before bushes start growing and risk getting in your way.
2. Get to work sweeping and raking
One of the most important jobs you can do is to rake and sweep up old debris that might be covering the lawn or patio. Be as thorough as possible. You'll be surprised by how much nicer your garden will look after this straightforward task is complete!
3. Finalise any landscaping plans
Most people have tonnes of plans for their garden space that they have been meaning to put into action for years. Now is the perfect chance to decide what you want doing this year and then get to work. Act now before summer gets too close and you put it off for yet another year.
4. Clean your patio with the pressure washer
You can make old and worn patios look as good as new by giving them a thorough wash with a pressure washer. You can hire one from most local DIY stores, or ask around your neighbourhood to see if you can borrow one for a few hours.
5. Consider laying artificial grass
Cutting the lawn and keeping on top of weeds are two of the most laborious tasks that come with owning a garden. Instead, it may be time to invest in some artificial lawn turf. It requires next to no maintenance and will leave your garden looking great, even once the summer has passed.
6. Plant in your flower beds
Spring is the perfect time to remove old weeds and fill your beds with beautiful plants and flowers. Then, by the time it's summer, they should be well bedded and in full bloom. Remember, now is also the perfect time to plant any fruits and vegetables to harvest later in the year.
7. Sort out the shed
Keeping on top of your garden space in summer will be much easier if you have a nice clean shed. Get to work clearing out old tools and equipment and bringing your summer furniture and gardening equipment to the front.
8. Organise the toys
If you have a large family with children, the garden may already be covered in new and old toys alike. Go through and get rid of anything that is no longer used and create a space to help better organise and keep them all under control.
9. Prune and trim
Finally, it's time to go round and prune and trim any bushes and trees with overhanging bushes. Yes, you'll likely need to do this a few times throughout the summer, but getting a headstart is the best approach to take before your garden turns into a jungle.
Without further ado, it's time to get to work! Even if you're not up for much hard work today, it's a good idea to draw up a plan of action. That way, you have a detailed list of all the jobs that need doing. Better yet, set deadlines for getting each job done to ensure your garden is ready and waiting for the gorgeous summer months.