3 min read
October 8, 2019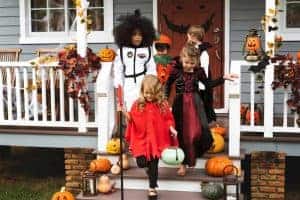 From outdoor Halloween parties in crunchy autumn leaves to spooky family activities to fit around Trick or Treating, here are some amazing things to do outdoors this Halloween:
Go for a woodland walk by torchlight
The simplest of Halloween ideas are often the most spine-tingling. Walking in the woods doesn't cost a thing, but in the dark, it's a spooky experience.
Senses are heightened in the dark, and you're sure to be more on edge. This makes a woodland walk exciting even for teenagers. Give each member of your family a torch of their own, and tread carefully as you explore. Younger children don't like feeling afraid, so for them add an element of fun with brightly coloured glow sticks to wave.
Have a picnic in the dark
Prepare a range of Halloween treats, like Halloween Marshmallow Pops, pumpkin pies and spooky finger hot dogs. Then, wrap up warm and set out a picnic blanket. A picnic is one of the best Halloween garden activities. It's ideal for a party, or for family fun. Add some scary music or Halloween sound effects.
Go on a ghost walk
Many organised tour providers promote ghost walks throughout the year. Book onto one of these to celebrate Halloween outdoors. Or, create your own by using your local knowledge. Do some research at your library, and find some truly scary facts about the place you live. Or, have fun as a family and make up some stories of your own. Then, act as a tour guide as you lead everyone around your hometown and become their ghostly host.
Hunt for ghostly orbs
For Halloween garden fun; arrange a ghostly orb treasure hunt. Blow up some balloons, each containing an activated glow stick. Once you've tied the balloons, take them outside and watch as they glow in the dark. Hide these around your garden, and let the kids go outside and find them.
Glowing balloons are quite easy to find. So, if your garden is safe, you can make your orb hunt a little trickier by removing all other sources of light. Tread carefully, little ones!
Grab a swinging apple
Skip the indoor apple bobbing. Instead, find apples with stalks and hang them from tree branches. Without using their hands, can anyone take a bite out of a swinging apple?
Search for skeleton parts
This is a great outdoor activity for Halloween parties. Print pictures of skeletons onto the card, then cut each image into six separate pieces – two arms, two legs, a body, and ahead. Hide pieces around your garden, or even around your neighbourhood if you're feeling particularly challenging!
Split your party guests into teams. The first team to find and piece together a whole skeleton will be the winning team in this Halloween game.