3 min read
July 2, 2019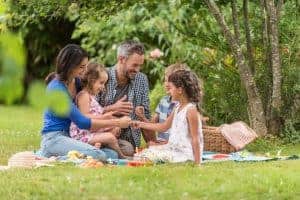 It's National Picnic Month! We at Artificial Grass wanted to celebrate and so we're showing you 5 of  best spots for picnics in National Parks around the Grab the Pimm's and follow us!
Peak District National Park
Not only suited to ramblers, the Peak District is a little slice of Heaven between Manchester and Sheffield. Comprised of awesome rolling hills it offers stunning views and grassy plains which are perfect for sitting down and setting up the blanket. Just make sure to bring the camera as well for the gorgeous views that you'll have from pretty much everywhere in this park.
Northumberland National Park
Often low on people's lists due to how far north it is located, the Northumbria National Park is by no means any less impressive than any of its more central relatives. The park, located above Newcastle, boasts an impressive variety of rare plant life and animals. You may need to be prepared to share your picnic with the red squirrels which inhabit this stretch of the country.
Yorkshire Dales National Park
Whether your picnic is a break from your trek up the famous Yorkshire Three Peaks or just a walk in the park, you won't be disappointed with what the Dales has to offer. Take a seat near any of the amazing historical monuments located within the park or enjoy the flowing streams and waterfalls to feel one with nature.  It might just be difficult to fit a Yorkshire pudding into your picnic!
Snowdonia National Park
Contrary to what its name might suggest, Snowdonia offers an absolutely fantastic experience during the summer months. Located in the North of Wales it is not short of activities to fill your day with, from countryside cycling to sandy beaches. Snowdonia is a delightfully varied landscape of steep river gorges, waterfalls and green valleys.
Over 6 Million visitor days are spent here every year, so make sure you visit them soon!
Lake District National Park
If you're in need of the unique experience of a lakeside picnic, then you have never been more spoiled for choice! Head to Coniston to snack on the shore of one of England's most beautiful lakes, or cross Windermere off of your bucket list. Alternatively, take our top tip and head over to Buttermere to enjoy the stunning views in one of the quieter parts of the lake district.
If you cannot make it to any of these parks over the summer, then fear not! We sell a wide range of artificial grass types so you can have an authentic picnicking experience right from the comfort of your very own garden. Take a look at our range today and find one that is right for you!